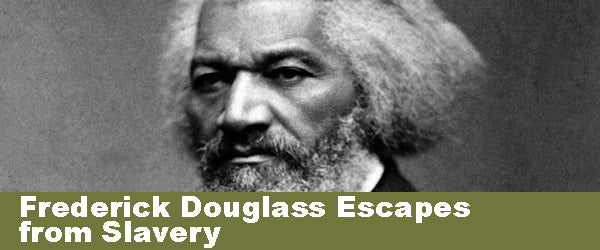 Posted by The Home School in the Woods Team on
It's difficult to fathom a world where people are enslaved because of the color of their skin. What's even harder to understand is a person mustering up enough courage to escape that slavery and become an American hero because of it. 
Frederick Douglass, abolitionist, author, public speaker, and human rights advocate, boldly escaped slavery on September 3, 1838, traveling across the United States until he arrived safely in New York. 
In this post, we will discuss who Frederick Douglass is, how he went from a slave to a freeman, and his impact on the civil rights movement and more. We'll also suggest some materials that you can use to help you as you teach your children about his admirable life.
Who Was Frederick Douglass?
Frederick Douglass was an American abolitionist, writer, and leader who was an advocate for human rights of all kinds – from African Americans to women. 
Frederick Augustus Washington Bailey was born into slavery on a plantation in Tuckahoe, Maryland. His father was an unidentified white man and his mother was African American. He would later take on the name Frederick Douglass after becoming a freeman. 
Though he never knew the actual date of his birth, he grew up believing his birthday was on February 14th because of the last memory he had of his mother, when she gave him a heart-shaped cake on Valentine's Day. 
After being separated from his mother as a young boy, he went to go live with his grandmother for a short time until he was hired to work for a man named Hugh Auld on a plantation in Maryland. 
Here, Douglass was secretly taught to read by his master's wife, Sophia. Douglass took quickly to reading and eventually learned how to write. He even showed his fellow slaves how to read using the Bible. 
When Did Frederick Douglass Escape?
Unfortunately, it wasn't long before word got back to his master that he was educating other slaves on how to read. He would then be transferred to a new slave owner named Edward Covey, who was notorious for mistreating his slaves. 
At the age of 16, Douglass arrived at Covey's plantation and would be beaten and whipped regularly. Although Douglass attempted to escape several times and failed, he never lost hope and continued to dream of a better life.
It wasn't until he was 20 years old that he successfully escaped on September 3, 1838. Although he was riddled with fear and anxiety, he traveled out of Maryland to Delaware and eventually made his way to New York by boat, where he would then stay with abolitionist David Ruggles.
A freeman at last, Douglass would marry a woman named Anna Murray just two weeks later, a free black woman he met back at Auld's plantation. He would even change his name from Frederick Bailey to Frederick Douglass to protect himself and his family. 
Douglass and his wife would go on to have five children and live successful lives seeking to abolish slavery and advocate human rights for all races and genders. 
The Successes of Frederick Douglass
Frederick Douglass accomplished many feats during his life, not only for an African American man of his time, but as a freeman in society. 
Aside from owning a home, having a family, and earning a living, Douglass, with his little education, went on to give lectures on behalf of the Massachusetts Anti-Slavery Society and would go on to publish several books.
Many were surprised that a former African-American slave could publish such profound works. This helped him land a job at a newspaper called The North Star in Rochester, New York, where he would become an editor and journalist. 
During his life, he also advocated for women's rights and attended conventions in Seneca Falls, where he would become one of the original signers of The Declaration of Sentiments drafted by Elizabeth Cady Stanton. 
Douglass also became a friend and advisor to President Abraham Lincoln, urging him to fight for the rights of African Americans, as well as the right for American Americans to enlist in the Civil War.
Post-war, Douglass held many government positions, including U.S. marshal of D.C. and ambassador to the Dominican Republic, officially making him one of the first African Americans to hold office. He also worked closely with President Ulysses S. Grant to help pass the 15th Amendment, which supported black voting rights.
Douglass died in 1895, leaving behind a legacy like no African American man before him. Today, you can find Douglass in practically every history textbook, as well as on the lists of most notable people in American history. 
How to Study Frederick Douglass With Your Children
As seen by his life, Frederick Douglass is a historical figure worth learning about. Plus, children often enjoy learning about his life because it tells an incredibly inspiring story.
We have a handful of projects you can use to help incorporate the life of Fredrick Douglass in your history curriculum. For starters, our Civil War Time Traveler study includes Douglass and offers a wide variety of hands-on projects to help kids understand the complexity of the war and why Douglass helped fight to end slavery. For more on our Time Traveler Studies, check out our blog post, What is a Time Traveler.
Our U.S. Elections Lap-Pak can also serve as a way to help your kids understand why voting is so important and why a man like Douglass worked so hard during his life to bring this opportunity to African Americans and women. You can learn more about this study in our blog post, Studying U.S. Elections Hands-On.
Douglass was also a writer during his life, who was not only a journalist who helped run a newspaper, but he published several books as well. Creative writing newspapers allow your children to write about Douglass' nail-biting escape as if they were journalists themselves. In addition, you can add Frederick Douglass' autobiography to your child's reading list. 
There are plenty of monuments throughout the U.S. dedicated to Frederick Douglass that you can take your kids to. If you're ever looking to go on an educational vacation, be sure to check out Fredericks Douglass' house, located in the Frederick Douglass National Historic Site in the District of Columbia.
We hope this blog post serves you well as you teach your children about the life and accomplishments of American hero Frederick Douglass. Don't forget to share this post with other homeschool families, and follow us on Facebook and Instagram for more "This Week in History" updates. 
---
Share this post
---
---
---
0 comment