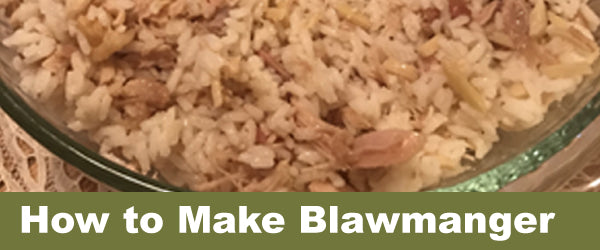 Posted by The Home School in the Woods Team on
The Middle Ages – a unique time of knights, castles, battles, guilds, and more! But what about everyday life? What did the people wear? How did they talk? More importantly, what did they eat?
Perhaps you're thinking of foods like gruel, ale, and moldy bread – but the truth is, there's so much more to Medieval cooking and eating. In fact, they ate a few dishes that were composed of ingredients quite familiar to us today. 
One of the oldest recipes is called "blawmanger," a dish that consists of simple ingredients like rice, almonds, almond milk, chicken, and sugar. Mix it all together, and you get a one-of-a-kind chicken casserole that tastes sweet!
So, if you're studying the Middle Ages with your kids and are looking for a fun, hands-on way for them to learn about the Medieval era, we encourage you to make this recipe! 
Why Make Food to Teach History?
It may seem odd to incorporate food preparation into your child's history curriculum, but we have found that there are many benefits to this method of teaching! 
It's no secret that our lessons cater to kinesthetic learning. We include countless projects that take the focus off of textbook reading, flashcards, and memorization, and instead focus on fun, effective forms of teaching such a dress-up, food-making, lap books, and other homemade crafts. 
If you have a hands-on learner who needs to touch, feel, and taste in order to learn a subject on a deeper level, then adding recipes might be a new favorite for your child. 
Making a historical recipe can really help bring a topic into perspective for hands-on learners. Not only are recipes a fun, educational bonding experience, but they can help kids in many other areas of school like math, science, reading, and necessary cooking skills. 
You can find historical recipes in the majority of our lessons. Some of these include Lincoln's Cake from our Time Travelers: The Civil War study, Senate Bean Soup from our Lap-Pak: U.S. Elections, or one of our several holiday-themed recipes from our History of Holidays Activity Study.
For more information on why you should add historical recipes to your homeschool curriculum, read our post, Adding Interest to History with Recipes.
The Origins of Blawmanger
Blawmanger, Blankmanger, or "white food" was an incredibly popular dish eaten by Medieval Europeans. You may recognize the name Blancmange – a pudding that evolved from Blawmanger (we'll get to that later). 
It's difficult to say exactly when and where Blawmanger was developed, however some historians suggest the 8th or 9th century in Tarragona, Spain. Nevertheless, this food spread throughout Europe and became an incredibly well-known dish among those living during the Middle Ages. 
In fact, it was so popular that it was even mentioned in Geoffrey Chaucer's Canterbury Tales, a famous collection of short stories from the Middle Ages. 
Blawmanger was popular throughout many other countries and is found in a wide variety of Medieval cookbooks from this period. Among the many cultures that enjoyed this dish were the French, who preferred a less sweetened version that was garnished with toasted almonds, Italians who would add unique ingredients like rosewater, ginger, and cinnamon, and Germans who were known for adding color to the dish with flowers such as violets.  
This "white food" or "white dish" was called this because it contained foods that were, well – white! Ingredients like rice, almond milk, white meat like chicken or fish, and sugar made the dish its notorious color. 
Blawmanger, in its original version, consisted of rice (a staple food during its time), chicken (or fish during Lent), and homemade almonds and almond milk, which would either be made with almonds and sweetened water or chicken stock to add a more savory flavor. 
Despite ingredients like chicken and rice, this dish is sweet thanks to the sugar, which started to become a popular ingredient in America and Europe during the 15th century. Sugar was used as a way to preserve foods and sweeten desserts and meat. 
As sugar became more popular (and addictive!), it kept being added to the dish, eventually ridding the Blawmanger of meat and rice and transforming it into Blancmange, a sweet gelatin consisting of almonds, milk, and sugar. By the 19th century, this sweetened chicken and rice casserole became a dessert we still enjoy today.
How to Make Blawmanger
Make Blawmanger for yourself using our recipe from our Project Passport: The Middle Ages. 
This recipe is affordable, super easy to make, and naturally gluten-free as its main ingredients are rice, chicken, and almonds. For those of you who are trying to stay away from added sugars, try using unsweetened almond milk and sweeteners such as stevia or monk fruit.
 Ingredients:
1 c. rice

3 c. almond milk

1 c. minced chicken, cooked with a dash of salt

1⁄4 c. toasted, slivered almonds

sugar to taste
Directions:
Pour the milk into a medium pot, adding the rice and salt. Heat until boiling.

Once boiling, add the cooked chicken to the pot and reduce the heat. 

Place a cover on the pot and simmer until rice is tender. 

Sprinkle each serving with sugar and sliced almonds
And there you have it – a quick, easy, and tasty meal you can incorporate into your Medieval studies. If you're looking for more experience-based learning projects that integrate the Middle Ages, be sure to check out our Project Passport: The Middle Ages where this recipe, as well as many other Medieval recipes, comes from. 
Our other Project Passports include recipes as well, which you can find in more detail on our website at homeschoolinthewoods.com. 
For more historical recipes, be sure to follow us on social media so you can stay up to date (we're on Facebook, Instagram, and Pinterest!).
---
Share this post
---
---
---
0 comment