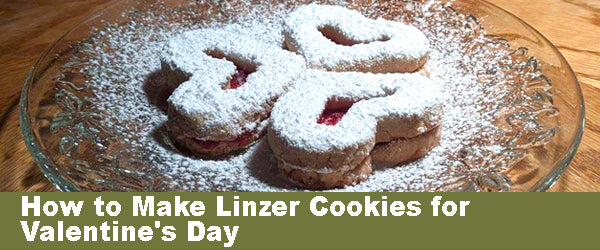 Posted by The Home School in the Woods Team on
Valentine's Day is this week, and you (along with every other homeschool parent) are trying to find a creative way to include the history of this holiday in your child's lesson plan.
We're here to help! Today, we're going to discuss the history of Valentine's Day, an ancient Roman Catholic tradition. Plus, we include our special Linzer Cookie Recipe found in our History of Holidays Activity Study.
The History Behind Valentine's Day
St. Valentine's Day, more commonly known as just "Valentine's Day," is best known as a day to show affection to one another by the giving of gifts and cards. 
To many, February 14th has gained a bad reputation for being a commercial holiday, but believe it or not, there's a wild history behind Valentine's Day that might change your mind. 
To start, Valentine or Valentinus was a saint. Although there are a few different saints that went by the name Valentine (all of whom were martyred), there's one in particular that began the tradition of Valentine's Day. 
According to Catholic religion, there was a priest during the third century of Rome who was breaking the emperor's rule. This emperor, Claudius II, outlawed marriage for young men because he believed that single men made for better soldiers and wouldn't be distracted with the thought of having to leave their wives and families. 
Saint Valentine, who found this law unjust, continued to marry these young men to their lovers in secret. When Claudius found out about Valentine's rebellion, he commanded that he be executed. 
Legend has it that Saint Valentine continued in his fight for romance by sending the world's very first valentine in prison. While awaiting his execution, he fell in love with a young girl – some stories say the jailer's daughter. Before his death, he wrote her a letter expressing his love for her and signed it "From your Valentine."
Whether this story is true or not, Saint Valentine and his romantic spirit continue to live on every February 14th through the giving of sentimental cards, candy, jewelry, and roses. 
Although this holiday is widely celebrated today in memory of St. Valentine, there was a pagan celebration in the middle of February that took place prior. On February 15th, Roman citizens celebrated Lupercalia, a fertility festival dedicated to Faunus, the Roman god of agriculture, and the legendary founders of Rome, Romulus and Remus.
In a nutshell, members of the Luperci would sacrifice a goat for fertility and a dog for purification. They would then take the goat's hide, dip it in blood, and waltz through the streets rubbing women and crop fields with it in hopes of fertility in the coming year. According to historians, later that day, young women would then place their names into an urn with a chance to be married to a local bachelor.
To replace this strange pagan festival, 5th-century Pope Gelasius I used the story of St. Valentine to celebrate love and affection every February 14th. Today, Valentine's Day is celebrated in the United States, Canada, Australia, Argentina, Mexico, South Korea, and most of Europe.
Linzer Cookie History
We know the origins of Valentine's Day isn't exactly what most kids (and parents) were expecting. So on a lighter note, we decided to include a traditional Valentine's Day recipe that originated in Linz, Austria. 
The Linzertorte is one of the oldest tart recipes, founded in 1653. This rich, buttery tart is known for its almond base with hints of lemon zest and cinnamon. Traditionally, the tart is filled with black currant preserves and finished with a lattice crust. 
The Linzer cookie is founded upon the same recipe as the Linzertorte. However, the dough is cut into a cookie form and will sandwich a berry jam or preserve. Traditionally, the shape of the cookie is a heart or circle. The top cookie usually has a small cut-out of said heart or circle to expose the jam's vibrant color. To finish, the cookies are dusted with confectioners' sugar. 
This historical cookie is well-known for being most famous on Valentine's Day and Christmas in Europe and America.
Why Include Recipe Making in Your History Curriculum?
If you have an imaginative child, adding hands-on projects to your lesson planning is a great way to keep them engaged. We've found that when kids use their senses to learn history, they tend to remember the material in a more personal way. 
One of the best ways we've found to incorporate hands-on projects is by including a recipe that relates to the subject they're learning about. For example, if your child is learning about Abraham Lincoln, you can make his famous cake found in our Time Travelers: Civil War study. 
For more reasons on why you should add historical recipes to your homeschool curriculum, read our blog post, Adding Interest to History with Recipes.
Linzer Cookie Valentine's Day Recipe

Ingredients:
1 c. blanched or sliced almonds, toasted

2 c. all-purpose flour

¼ tsp. Salt

½ tsp. ground cinnamon

1 c. unsalted butter at room temperature 

½ c. seedless raspberry or strawberry jam

⅔ c. sugar

1 tsp. vanilla

½ tsp. salt

2 large egg yolks

Zest of 1 lemon

Confectioners' sugar for dusting
Directions:
Mix the nuts with ¼ c. of the sugar in a food processor until finely ground. Set aside.

In a medium-size bowl, sift together the flour, cinnamon, and salt. Set aside. 

In a large bowl, use a hand mixer to cream together the remaining sugar with the butter until fluffy and smooth. 

Add in the egg, lemon, vanilla, and nuts. 

Slowly add in the flour mixture and gently mix without overworking the dough.

Divide the dough in two, wrap in plastic wrap, and refrigerate for at least one hour.

Preheat the oven to 350 degrees. 

Using one portion of the dough, roll out on a lightly dusted surface (either flour or confectioners' sugar). 

Using a cookie cutter, cut hearts and place on a baking sheet with parchment paper.

Roll out the second portion of dough and use the same cookie cutter to cut an equal number of cookies as the first batch. 

Cut out center hearts from the second batch of cookies with a smaller cookie cutter or by hand (you will need a complete heart and a "window" heart to make one finished cookie).

Bake in the center of the oven for 8-10 minutes or until golden.

Once cookies cool, spread a small amount of jam on a complete cookie and top with a cut-out cookie. Note: you may wish to warm the jam in a pan for easier spreadability.

Finish by dusting cookies with confectioners' sugar. 

Enjoy and share with your Valentine! 
More Recipe Resources
We hope you enjoy this Valentine's Day and that our Linzer cookie recipe encourages you to teach your children the story behind this historical holiday! 
If you would like to include recipe making in your homeschool curriculum, all of our studies feature recipes to some capacity. We have recipes for every era, including the New and Old Testament, the Civil War, the Industrial Revolution, and more. 
To find recipes based on the era you're studying, you can view the projects on our website. If you're looking for an entire lesson plan about the history of American holidays, check out our History of the Holidays Activity Study. 
---
Share this post
---
---
---
15 comments