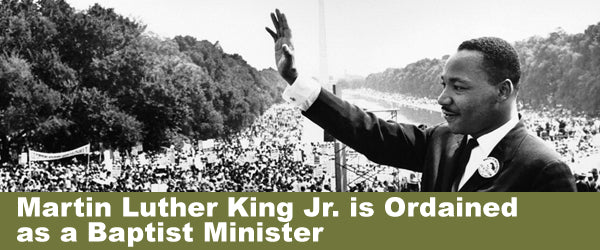 Posted by The Home School in the Woods Team on
All of us have dreams. For kids, it's walking the streets of Walt Disney World… for adults, it's having some alone time! For baptist minister and social rights activist Martin Luther King, Jr., he longed to see the United States live out the true meaning of its creed, "all men are created equal."
While King is remembered for his iconic peaceful protests and moving speeches on systematic racism, many forget that he started his journey as a lowly minister with "just a dream." 
On February 25, 1948, King was ordained a Baptist minister and became an assistant pastor at his father's church in Atlanta, Georgia. As for how he helped organize the first African-American civil rights movement – you'll have to keep reading and find out! 
The Early Life of Martin Luther King, Jr.
Michael (not yet Martin Luther) King, Jr. was born on January 15, 1929, to Reverend Michael and Alberta King. 
Michael King, Jr.'s father was inspired by Martin Luther, the Protestant Reformation leader. Subsequently, Michael King, Sr. changed both his own as well as his 5-year-old son's names.
The King household was a middle-class family firmly rooted in southern black ministry. His father and maternal grandfather were both Baptist preachers and would later encourage King to follow in their footsteps. 
Despite living in a wealthy African American neighborhood and coming from college-educated parents, King experienced racial prejudices at a young age. Around the age of six, King's heart was broken when one of his white friends told him he could no longer play with him, now that they were attending segregated schools. 
This lead to a long conversation with his parents, who enlightened him on the history of slavery and racism. King responded that he was "determined to hate every white person." However, his parents reminded him of his faith in God and his duty to continue loving. 
At the age of 15, King's eyes were opened to the freedom blacks were experiencing in the North when he spent a summer at a tobacco farm in Connecticut. 
Here he wrote in a letter to his parents that he was shocked that whites and blacks went to the same church. He could even eat anywhere he pleased. This experience only made King despise racial segregation and Jim Crow Laws back home even more. 
During high school, King was known for moving people with his beautiful singing voice. He was also a great public speaker and took part in his school's public debate team. 
After graduating from high school, King became an ordained minister and practiced at his father's church. He then spent several years studying at Crozer Theological Seminary in Chester, Pennsylvania, where he learned about Mohandas Gandhi's nonviolent lifestyle and other tactics behind contemporary peaceful protests. 
What Did Martin Luther King, Jr. Believe In?
Some wonder what religion Martin Luther King practiced. His motives, meetings, and speeches were all influenced by his Christian faith. King believed in the gospel of Jesus Christ and strongly believed in the commandment, "love your neighbor as yourself." Even though King was a civil rights leader, he considered himself a preacher of the gospel first and that his efforts toward ending racism were a part of his ministry. 
Montgomery Bus Boycott
After marrying his wife, Coretta Scott, in 1953, King became a pastor at Dexter Avenue Baptist Church in Montgomery, Alabama. 
It wasn't long before King found himself advocating against racial segregation after an incident with a local African-American woman named Rosa Parks who refused to give up her seat to a white man on the city bus.
King, along with many supporters, quickly formed a group to boycott the city's public bus system. Even though the safety of King and his family were at risk, he managed to keep the boycott going for 381 days. 
The boycott gained significant publicity and was sent to the Supreme Court, where it was ruled unconstitutional for segregation on public transits. From this point forward, King was known all across the country as an inspiring civil rights leader who was only just getting started. 
To learn more on the history behind the Montgomery Bus Boycott, be sure to read our post, Rosa Parks is Arrested, Sparking the Montgomery Bus Boycott.
Martin Luther King, Jr. Speech
Over the next several years, King brought nationwide attention to his nonviolent campaigns to end racial problems throughout the United States. He founded the Southern Christian Leadership Conference, an organization that served as a platform for him to speak. 
King lectured all across the country with other religious and civil rights leaders. At times King found it hard to continue the fight, as he and his supporters were regularly being jailed and physically abused by tear gas, police dogs, fire hoses, and more. 
On August 28, 1963, King joined the historical March on Washington, where over 200,000 people stood peacefully in front of the Lincoln Memorial as a way to demand justice for all citizens. This is where King gave his iconic "I Have a Dream" speech, which he would later go on to win a Nobel Peace Prize for.
You can listen to King's famous speech in the video below.
Martin Luther King, Jr. Assassination
Sadly, the world was shocked by the death of Martin Luther King, Jr. on April 4, 1968. King was staying at a motel with his associates in Memphis, Tennessee, when he was shot and killed by a sniper's bullet. 
The night before his death, Martin Luther King, Jr. said his famous quote, "I've seen the promised land. I may not get there with you. But I want you to know tonight that we, as a people, will get to the promised land."
King's death took a severe toll on his followers, sparking riots in more than 100 cities across the country. A year after his death, King's killer pleaded guilty and was sentenced to 99 years in prison.     
Studying the Life and Legacy of Martin Luther King, Jr.
Not only does King's speech remain one of the most inspiring ever given by an American leader, but his efforts to ensure civil rights for all people by means of nonviolent protests continue to enlighten and inspire the world.
Whether you're studying King with your children because of Black History Month or because you want to discuss the history of racial injustices, we've got several resources to help.
We cover Martin Luther King, Jr. in our 20th Century in America Lap-Pak. And of course, we discuss him in our History of Holidays Activity-Study, since as Americans we celebrate Martin Luther King, Jr. Day. 
If your child enjoys using timelines, we have a figure dedicated to Martin Luther King, Jr. in our Collection of Historical Timeline Figures.
Well, that's it for now! We hope this article has served you well and that you're inspired to include MLK in your child's history curriculum. For more "this week in history" blog posts, be sure to follow us on our social media platforms – Facebook, Instagram, and Pinterest.
---
Share this post
---
---
---
0 comment