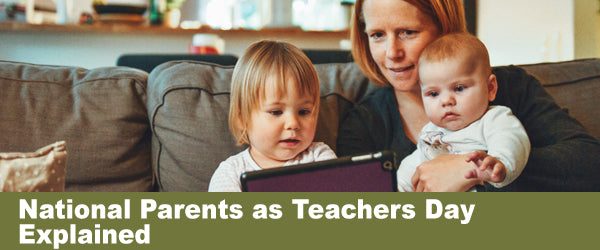 Posted by The Home School in the Woods Team on
Parents are their child's first and most important teacher. 
Even research shows that "students with involved parents are more likely to have higher grades and test scores, attend school regularly, have better social skills, show improved behavior, and adapt well to school."
National Parents as Teachers Day is a special day that encourages all parents, regardless of income or educational background, to support their child educationally inside and outside of the classroom. 
Most homeschool parents are proud "parents as teachers," which is why National Parents as Teachers Day hits home in our hearts. But what exactly does it mean to be a child's first teacher? And how can we encourage others to do the same? Read on to find out!
National Parents as Teachers Day History
National Parents as Teachers Day takes place every year on November 8th. It aims to support parents in their role as teachers in their child's life. All parents, whether they choose to homeschool or public school, are given the opportunity to join forces and learn to develop their true potential as a parent and teacher. 
Although the origins of Parents as Teachers Day is difficult to trace back, it's believed to have been founded in the 1970s in Missouri when educators began growing concerned as children were entering kindergarten at various levels of readiness. 
This sparked a movement to educate parents on their role as educators in their child's early life and beyond. Many Parent Teacher Organizations offer resources on this day to help support parents of young children across the country all year round. 
What Is Parent Involvement?
Gandhi once said, "Every home is a university and the parents are the teachers." This couldn't be more true since there is a link between parent involvement and student achievement.
Parent involvement can be defined as "the participation of parents in every facet of a child's education and development from birth to adulthood, recognizing that parents are the primary influence in children's lives."
Primary influence can be a scary word. To think that we're responsible for our child's social, mental, emotional, and physical health is a heavy load. It's no wonder many parents feel overwhelmed or under-qualified to teach their children outside of the classroom.
However, the truth is, the best parents began their journey feeling this way. Parent teaching isn't an easy job and may look different for every parent, which is perfectly okay! 
How to Be a Parent-Teacher
We all come from different educational backgrounds, but that shouldn't stop us from helping our children grow in theirs. There are many ways we can become better parent-teachers to our child and support others to do the same. 
Be a Good Role Model
The biggest, most important thing we can do to support our child is to be a good role model. Children learn by imitation, whether it's from peers in a social setting or behind closed doors at home. Their home environment can impact their life just as much as a classroom can. If you value the importance of kindness, respect, and education, chances are your child will reflect these things too.
Get Your Child Involved
There are many opportunities to get your child involved around the home. Helping out with simple tasks like cooking, cleaning, gardening, etc. can help teach children different skills. We're big believers in involving fun, hands-on activities into a child's education. Cooking can be an excellent way to teach your child basic math and science skills. Read our blog post, Adding Interest to History with Recipes, to learn more. 
Ignite a Love of Learning
We have Charlotte Mason to thank for the idea of education being an atmosphere and way of life. Teaching a child that learning doesn't just happen in the classroom can make or break their desire to learn. When a child associates learning with boring textbooks and lectures, they understandably come to loathe the idea of learning. However, when knowledge is perceived as a way of life, it becomes a beautiful, natural, sought-after experience. 
Know What Your Child Needs to Thrive
Not every child learns the same way. Understanding what your son or daughter needs to process information properly can be what's standing in the way of their success as a student. There are many different types of learning methods, from visual, verbal, physical, and more. For example, if your child is a hands-on learner, try using dress-up as a tool to help them better remember important people throughout history. Do your best to find out what your child needs to thrive, and nurture their preferred method as best as you can. 
Conversations Are Key
There is something special in having a relationship with your child where they can share their thoughts and feelings with you. Having regular open discussions where children can express their struggles and fears can motivate them to continue learning. Sharing your personal experiences with them can lift their confidence and willingness to work on their weaknesses. 
How to Observe Parents as Teachers Day
Everything mentioned above can help us lead by example as parent-teachers, but how else can we foster a safe and healthy learning environment in our community? Below are a few ideas on how you can celebrate and spread the word about National Parents as Teachers Day. 
Use the hashtag #ParentsAsTeachersDay on social media. Share inspiration with other parents and information on what it means to be a parent-teacher. 

Host a resource event at church or in your neighborhood to inform others about the importance of being a parent-teacher for life.

Talk to your county commissioner or school district superintendent about the need to recognize National Parents as Teachers Day. 

Tell your local news station about National Parents as Teachers Day and ask them to share a story on it. 
Parents Are Teachers Too
As you can see, being a parent and teacher goes hand in hand. However, this can be an overwhelming thought to many parents! Simply recognizing that we are all in this together can make all the difference. 
So tell us, how do you plan on celebrating National Parents as Teachers day? We'd love to hear your thoughts in the comments below. You can always start by sharing this article with your loved ones on social media!
---
Share this post
---
---
---
0 comment