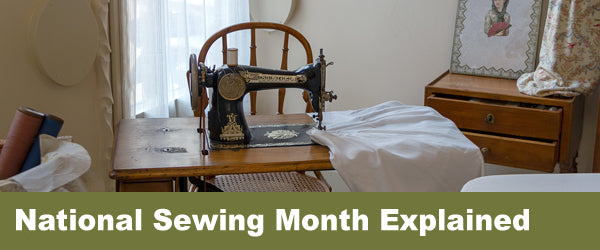 Posted by The Home School in the Woods Team on
If there's one unique skill that has been continually used throughout history, it's sewing! To think our fashionable clothes and warm blankets wouldn't exist if it weren't for the art of sewing and the talented crafters who perfected it.
National Sewing Month is a holiday that celebrates an art-form that has been around for centuries. It aims to recognize the importance of home sewing and encourage people of all ages to begin stitching seams of their own!
In this article, we'll discuss the history of this holiday and how you, as a homeschool parent, can incorporate fun sewing projects into your child's history curriculum.
The History of Sewing 
Sewing is a craft that involves stitching objects like fabric together using a needle and thread. The word sewing was first recorded in the 14th century. However, archaeologists have found ancient textile arts that date before that. 
The first time sewing showed up as an occupation was during the Middle Ages. Since quality clothing was an item worth investing in, many people looked to sewers to create durable, trendy articles of clothing.
Carrying on into the 17th century, decorative needlework like embroidery and quilting became a useful skill for young women to know. The world saw the art of sewing grow in popularity and practicality – whether it was mending an old shirt or stitching together a wedding sampler. 
Thanks to the invention of the sewing machine in the 19th century, the time it took to complete sewing projects dramatically decreased. Today, sewing by hand or machine is still practiced throughout the world, mainly by hobbyists and crafters. 
Why Is Sewing an Important Skill?
As homeschool parents, we not only want our children to pass state-required exams but also to learn practical skills they can carry with them throughout their lives.
According to one statistic, 13% percent of Americans aged 18 to 29 practiced sewing in the year 2019. This surprisingly wasn't too far from the 17% of 50- to 64-year-olds who practiced sewing. 
Although the number is still relatively low compared to other hobbies, it's pleasing to know there are a handful of young people in the world taking up this fun and useful craft!
Aside from its many practical applications, sewing can be a wonderful way for children to express their creativity. It's also quite therapeutic and could open the door for other creative hobbies.
What Is National Sewing Month?
So, how exactly did National Sewing Month begin? 
On September 21, 1982, the American Home Sewing and Crafting Association requested the month of September be dedicated to the art of home sewing.
President Ronald Regan supported the idea by marking September as National Sewing Month, declaring, "Tens of millions of Americans sew at home. Their efforts demonstrate the industry, the skill, and the self-reliance which are so characteristic of this nation." 
Today, nationalsewingmonth.org has taken on the event, marketing it through various outreach events and activities. They hope to introduce a love of sewing to new demographics and inspire unique, creative art pieces. 
How to Celebrate National Sewing Month 
Celebrating National Sewing Month (or National Sewing Machine Day!) is a wonderful time to teach your little ones the art of sewing. 
At Home School in the Woods, we scatter plenty of simple sewing projects throughout our projects so kids can "double-dip" with other subjects like art, home economics, and math.
Some of our popular sewing projects include silk postcards and our penny rugs kit, both of which can be found in our Industrial Revolution to the Great Depression study.
Want to learn more about penny rugs? Check out our article: The History of Penny Rugs!
Pick up a Needle and Start Sewing Today!
From sewing a button on a shirt to hemming a pair of pants, everyone can benefit from learning the basics of sewing. We hope this post has encouraged you to introduce your child to the art of sewing or any other nifty crafts like knitting or crochet! For more dress-up ideas that could incorporate sewing, watch our video: Kids Dress-Up Clothes on a Shoestring Budget.
---
Share this post
---
---
---
0 comment