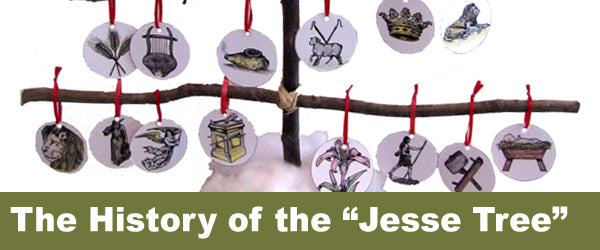 Posted by The Home School in the Woods Team on
What's there not to love about the Christmas season? Sparkling trees, family gatherings, and of course, the long-awaited gifts! While these things aren't in and of themselves bad, we can often get caught up in the commercial side of Christmas and miss the real "reason for the season." 
Making a Jesse Tree can help set our hearts on the true meaning of Christmas. This historical Christmas tradition dates back to the Middle Ages and acts as an Advent activity to remind both children and adults of the events leading up to Jesus' birth. 
So, what exactly is a Jesse Tree, and how can you make it a beloved Christmas tradition in your household? We've got the answers below! Plus, more about materials like our History of Holidays Activity Study, which delves into the rich history of Christmas and many other important American holidays.
What Is a Jesse Tree?
The Jesse Tree is first and foremost named after Jesse, an Old Testament character who was the father of King David and a descendant of the Messiah. Many Christians refer to Jesse as the first "branch" in the genealogy of Jesus.
This idea comes from a passage from Isaiah 11:1-4:
"There shall come forth a Rod from the stem of Jesse, And a Branch shall grow out of his roots. The Spirit of the Lord shall rest upon Him, The Spirit of wisdom and understanding, The Spirit of counsel and might, The Spirit of knowledge and of the fear of the Lord. His delight is in the fear of the Lord, And He shall not judge by the sight of His eyes, Nor decide by the hearing of His ears; But with righteousness He shall judge the poor, And decide with equity for the meek of the earth; He shall strike the earth with the rod of His mouth, And with the breath of His lips He shall slay the wicked."
In light of this passage that describes the origins of Jesus as a branch – with Jesse being at the roots – the custom of decorating a tree with illustrated ornaments of people, prophesies, and events leading up to Jesus' birth was created. 
Like an advent calendar, the Jesse Tree involves placing an ornament on the tree every day that tells the story of the Bible, beginning with the creation story and ending with the birth of Jesus in the New Testament.
Jesse Tree History 
Some of the first Jesse Trees weren't actually trees but were in the form of art, like stained-glass windows in churches, tapestries, and carvings. 
It's believed that one aspect of the Jesse Tree began during the medieval era, where religious art was growing in popularity. Artwork emerged, showing the relationship between Jesse, Jesus, and many other important biblical characters. 
The designs showed Jesse reclining at the bottom, with ancestors like David, Solomon, and Mary growing out of him like branches. These branches would eventually lead to Jesus, the most important character of them all. 
The story goes that this painting served to help illiterate people see first-hand how characters in the Bible lead to the birth of Jesus. Some of these famous paintings still exist in the form of stained-glass windows in European medieval cathedrals like the Cathedral of Chartres that dates back to 1145!
So, how did a physical tree become the custom for a Jesse Tree? 
People during the medieval era enjoyed watching plays – especially ones that involved stories from the Bible. It's said that one play, in particular, was based on the fall of Adam and Eve and used a tree prop with red apples as decoration.
Over the years, the lineage drawings and the play's physical tree-of-life prop gave birth to the Jesse Tree. People would personalize their trees by handcrafting their own ornaments to help tell their children and their children's children of God's faithfulness throughout the ages.
An ornament would be placed on the tree every day throughout the month of December to illustrate the Christmas story. Each ornament would involve scripture and an opportunity to teach others about that specific event, person, or prophecy. 
How to Make Your Own Jesse Tree
If you're looking for a fun craft to do with your children during the Christmas season, then creating your own Jesse Tree is a must! Customizing your own Jesse Tree ornaments can be an exciting time to dig into scripture with your kids and make illustrated paper ornaments from famous Bible stories. 
The best part is you can decide which symbol or picture you want to draw for each day leading up to Christmas. With 24 days, you can split them up in batches or do them all at once. The point is to have one ornament ready each day to place on the tree. 
Creating a Jesse Tree can be a bit of work and will take patience and participation from everyone. However, once your Jesse Tree symbols are made, you can keep using them year after year. These little trees truly are a gift that keeps on giving and can become a sweet tradition kids look forward to.
If you don't have the time to make your own DIY Jesse Tree ornaments, then you can simply print them out. We carry a Jesse Tree project which covers the history of the Jesse Tree and a printable Jesse Tree that kids can cut out and color in. It also comes with Jesse Tree scripture readings to go along with each ornament. 
This project can be found in our History of Holidays Activity Study, which not only covers many other historical Christmas projects, recipes, and games, but other important American holidays like Valentine's Day, St. Patrick's Day, Easter, and so much more. 
Many moms have said they love this particular study because they can take a break from their regular routine and celebrate the holidays as they come and go. The projects for each holiday only take a few days and involve plenty of hands-on crafts that make beautiful keepsakes.  
Make Your Own Jesse Tree This Christmas!
Jesse Trees are a perfect way to help everyone in the family remember the Christmas season's true meaning and other Bible stories. We hope you add the Jesse Tree Advent calendar to your Christmas activities. If you do, be sure to post your photo and tag us on social media so we can see your tree!
---
Share this post
---
---
---
0 comment