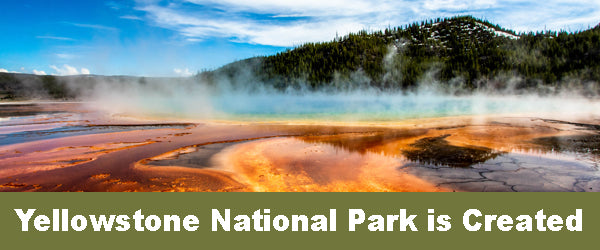 Posted by The Home School in the Woods Team on
There are many famous parks throughout the United States. Still, by far, the most well-renowned is Yellowstone National Park, located primarily in Wyoming, as well as parts of Montana and Idaho. With over 3 million visits per year, this park is considered to be the oldest and largest national park in the United States. 
When Was Yellowstone National Park Created?
Today, we're celebrating Yellowstone's establishment as our country's (some say even the world's) first national park. This week in history, on March 1, 1872, President Ulysses S. Grant signed Yellowstone National Park into law.
Before we get ahead of ourselves, let's rewind the clock and get some history behind this spectacular park and how it came to be what it is today. 
Yellowstone National Park History
Yellowstone gets its famous name from the Yellowstone River that flows throughout the park and into the Grand Canyon. It's said that French trappers from the 18th century named the river "Roche Jaune," translating to "Yellow Rock River," which Americans would later rename "Yellowstone." 
The region was first entered (but not explored) by Americans during the Lewis and Clark Expedition of 1805. It wasn't until 1806 when member John Colter split from the expedition that he explored parts of the region and described it as "fire and brimstone." Mountain men and trappers who explored the land over the next 40 years would tell of what others thought of as a myth –  "strange steaming rivers," "boiling mud," and "petrified trees."  
(For more information about mountain men from the early 19th century, including John Colter, check out our Early 19th Century Time Travelers History Study that covers four influential mountain men, the Lewis and Clark Expedition, the Gold Rush, and more!)
As time went on, few explorers ventured into the Yellowstone region. It wasn't until 1870 that an organized group went on the Washburn-Langford-Doane Expedition. This group would spend about a month exploring the area, collecting various specimens. Upon returning, a member of the group, Cornelius Hedges, stated in a detailed article that the land should be preserved at all costs and made into a national park.  
In 1871 the U.S. government sponsored its first expedition that took place in the Yellowstone region. The reports, photos, and paintings brought back convinced congress to withdraw the region from public auction and make it into a national park.
Several supervisors were staffed over the years to protect the park and prevent wildlife poachers and vandals from entering the region and stealing its resources. Without much success, the government finally issued that the U.S military oversee the park in 1886. 
Thanks to the military's efforts to protect the park, vandalism and the poaching of wildlife (particularly bison) decreased dramatically. Many other improvements took place during this time, including the building of several structures, notably the Old Faithful Inn, which is still standing and in use today. A road system was also built that further welcomed the public and their automobiles. 
In 1916 the protection of the park was handed off to the National Park Service, who took significant steps to explore the park with a scientific lens.
The National Park Service has gone to great lengths to protect the park since being entrusted with it. However, on September 8, 1988, one of the park's greatest tragedies struck when a great fire consumed over a third of the park and its forest. The flames continued to burn for several months due to severe dry conditions and increasing winds. It wasn't until November 18th that fresh autumn rain fell, and the fire was extinguished. 
Yellowstone Today
Scientists and their efforts to study Yellowstone have found more than five dozen mammals, 1,350 flowering plants, and over 300 species of birds living in the park. Surprisingly, Yellowstone has fewer than a dozen reptiles and amphibians due to the region's cold, dry climate. 
Geologists continue to be fascinated by Yellowstone's rugged mountains, glacier-carved valleys, deep forests, lakes, and rivers. The park contains some of the most unusual geological features found in a single area. Its past and present volcanic eruptions, numerous geysers, hot springs, fumaroles, and mud pots make it one of the most exciting regions on Earth. 
The park is open to the public and consists of 465 miles of roads, 1,000 miles of trails, nine visitor centers, nine hotels and lodges, and a dozen dining facilities. Today, over 3 million people visit the park each year and participate in recreational activities such as hiking, camping, fishing, boating, cross-country skiing, and more.
For amazing footage of Yellowstone National Park and its geographical features and wildlife, watch this video created by National Geographic.
Why Teach Your Children About National Parks?
There are 62 national parks in the United States, but why should we go out of our way to include them in our children's history curriculum? 
Learning history doesn't have to just be about memorizing dates and facts. With the help of national parks, children can walk upon preserved history and discover it for themselves. 
It's often forgotten that presidents, such as Theodore Roosevelt and Woodrow Wilson, fought to preserve these natural lands and wildlife therein. Due to their efforts, future generations can freely enjoy parks such as Yellowstone, Yosemite, Zion, the Grand Canyon, and many more. 
We encourage you to take your children to some of our country's beautiful national parks. After all, what better way to study history than to take an educational road trip? Odds are, they'll have fun, come to appreciate God's beautiful creation, and learn valuable information.
To find a national park near you, visit the U.S. National Park Service's "find a park" map. 
More Resources 
We hope you enjoyed learning about Yellowstone National Park and someday visit it with your family! If you're looking for hands-on history projects that touch on aspects of Yellowstone, check out our Early 19th Century Time Travelers History Study or our Industrial Revolution Time Travelers History Study. 
For more "This Week in History" blog posts, follow us on Facebook, Instagram, and Pinterest.
---
Share this post
---
---
---
1 comment