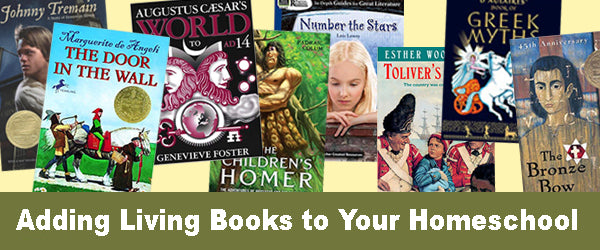 Posted by The Home School in the Woods Team on
If you've been around the homeschool world long enough, then you have probably heard the term "Living Books." Living books was originally coined by Charlotte Mason as a way to explain the types of books children need to be exposed to as they grow. As opposed to "twaddle," or entertainment-only literature,
Living books present ideas and stories that are "fit and beautiful expression[s] of inspiring ideas and pictures of life."
Pictures of Life
When the phrase "pictures of life" comes up, history is the first thing that comes to mind. What better way could there be to describe exactly what we WANT our homeschool history curriculum to be? So much has happened since God first created the earth, and in reality, we cannot teach ALL the things in the 12 years that we have to educate our children. But, what we can do is give them a glimpse into life long before their time, and a passion for history that long outlives our few homeschooling years.
There are a lot of amazing textbooks that give us dates, times and places of events. These are all important facts for children to learn, but where some textbooks fail is at painting a full picture of life.
When you add living history books, you and your children get to take an adventure into the world and time period you are exploring!
Or perhaps, like our Time Travelers and Project Passports, your curriculum already has an exciting and easy-to-follow text! Living books can still help to come alongside and support an already robust curriculum. When you are following the life of Ranofer in The Golden Goblet while you are simultaneously constructing an Egyptian Pyramid or cooking Ancient Egyptian culinary dainties, your children develop a deeper connection to the time period, and as a result, they learn MORE!
And, while reading out loud as a family is an important part of our homeschool, not all books need to be read out loud, or read out loud by you, at least. A majority of classic living books, for instance, come in audio versions, and a quick search will lead you to some read-aloud podcasts.
The point is, there are many simple yet effective ways that you can include living books into your own family's unique rhythm. 
If you're wondering where to even start at this point, never fear!
We've gone ahead and done the hard work for you. Along with including living book recommendations in many of our individual products, below are some of the top living history books to enhance your studies. Enjoy!
Ancient History:
Written by: Eloise Jarvis McGraw
Set in Ancient Egypt, Ranofer wants to become a master goldsmith like his father. His brother, Gebu, treats Ranofer as if he is an imprisoned slave. But, when Ranofer discovers a golden goblet in Gebu's room, his whole life changes! Join him as he discovers what the golden goblet is, and where it came from!
Written by: Elizabeth George Speare
A 1962 Newberry award winner, follow Daniel in Israel on a quest to avenge the death of his father by defeating the Roman soldiers that have taken residence in his homeland. Angry and desperate, Daniel turns to the traveling carpenter, Jesus, whose teachings soon help him realize that anger and revenge may not be the thing he has been searching for. Ancient historical fiction, adventure AND Jesus? This is one the whole family will enjoy!
Written by: Ingri d'Aulaire and Edgar Parin d'Aulaire
There are so many wonderful lessons to be learned from Greek mythology. Stories revolving around gods, goddesses, heroes, adventurers and more can be found in this children's anthology. Age-appropriately written, while still sticking true to the original storylines (no Disneyfied Hercules here!), this book has been listed among the top 100 books for children and has been in print for over 50 years. Complete with beautiful full-color drawings, your family will love discovering what stories and beliefs were behind all of the choices of the people of ancient Greece and Rome!
Written by: Padraic Colum
None of us will argue that The Adventures of Odysseus and The Iliad, both penned by Homer, are among the best (if not THE best) epic poems ever written. But, while studying the Ancients with littles, the language of the original poems may not be the best first introduction to these wonderful literary works. Instead of holding off, bring in The Children's Homer! Altered from the original but still true to Homer's original piece, this children's version is no watered-down twaddle. Instead, it's a beautifully illustrated perfect way to approach these wonderful stories in a way the whole family can participate in!
Medieval History: 
Written by: Marguerite de Angeli
Robin, the son of a nobleman, comes down with a terrible illness that renders his legs useless. Angry, depressed and alone, Robin can't see any value in himself if he can no longer fulfill his destiny of becoming a knight. When Brother Luke brings him to the Monk monastery, Robin begins to learn that there is more to life than the destiny he thought was put upon him. Will he discover that there is more than one way to serve his king and his country?
Written by: Roger Lancelyn Green
Most of us have heard of Robin Hood, but did you know that the written story by Green is really a compilation of various folk tales and ballads about this English folk hero?  This famous children's tale where the medieval outlaw becomes the ultimate opponent of tyranny and injustice helps us all to see that sometimes the hero and the antagonist aren't always who we think they are.
Written by: Gloria Skurzynski
Are you noticing a trend among the heroes and main characters in a lot of ancient and medieval literature? If you said that a lot of the heroes are boys, you are right! And while these well-developed characters can teach all of us some essential life lessons, a story where the hero is actually a heroine is a welcome change! Follow Alice during the French Crusades while she (along with her brother Roger) must escape an ancient hidden tower to find their uncle. Courage and trust are central in this story, as brother and sister lean on each other and fulfill their own roles on their quest. Will they complete their quest and bring their uncle home?
American and Modern History: 
Written by: Esther Hoskins Forbes
Set just before the Revolutionary war, Johnny Tremain finds himself needing to switch apprenticeships after injuring his hand in an accident. His new line of work brings him directly to Samuel Adams, John Hancock, and Dr. Joseph Warren! Follow Johnny as he finds himself right in the middle of some of the most famous events that led to the American Revolution!
Written by: Esther Wood Brady
Ellen Toliver must go disguised as a boy as she attempts to smuggle a letter to General George Washington for her grandfather. This is a big job for this timid and shy 10-year-old. Will she gain the courage she needs on her mission as she meets more and more unsavory situations? Will the message land safely in the hands of the General?
Written by: Carol Ryrie Brink
Caddie Woodlawn is an 11-year-old pioneer girl growing up in 1864 Wisconsin. Raised as a tomboy, she and her brothers often end up in precarious situations as they are growing up. Follow along as they find adventure growing up in the wilderness. Your family will be transported back to a simpler time as you go through the various going on of Caddie and her brothers.
Written by: Lucy Adlington
A good introduction to the Holocaust, without being too much for younger readers to be exposed to, this novel follows Ella and Rose and the friendship that they develop inside of a concentration camp sewing workshop. While still covering some of the suffering involved during this tragic time, at the center of this story is the hope that can be found within this friendship. This story would make an excellent read-aloud as you begin to explain to your children the Holocaust in a way that is age-appropriate.
Written by: Lois Lowry
In Denmark during the Holocaust, thousands of Jewish citizens were smuggled out of the country and to safety by the Danish Resistance. In this novel, Annemarie Johansen's family is a part of that resistance, and they take in her Jewish best friend, Ellen Rosen. Witness as a family what the Holocaust looked like through the eyes of a child who was not Jewish, and experience the courage and humanity of an entire nation.
Series:
...okay, highlighting a series instead of an individual book might be cheating, but sometimes you can't pick just one!
Written by: Genevieve Foster
This series has no "official" title, but it includes stories revolving around some of history's most famous and influential people. You and your family can discover what it was like growing up during the time periods of these select individuals! Use them to enhance your time-period study, or try creating a unit study around their life!
Written by: Janet and George Benge
Biographies of 20 of the most influential leaders throughout history, but told in an engaging way the whole family will love! The people chosen span a wide range of years, making finding a biography to fit your study pretty easy. The Benges do a fantastic job of pulling together science, history, geography, political climate with adventure and character development. Families love these books because they bring to life some of the historical figures children are learning about in a more engaging way than other biography series.
Written by: Lois Walfrid Johnson
If you are a family that likes adventure, then you will want to follow heroine Libby through these 6 books as she faces the danger of helping those that most would be afraid to help. Libby aids fugitive slaves escaping the slave trade, immigrants and eventually the underground railroad. Fast-paced, high-intensity adventurers that will keep all ages engaged, Johnson does an incredible job bringing some of these darker parts of American History to life! Previously called "The Riverboat Adventures," Freedom Seekers should be a part of every Christian family's read-aloud rotation!
Whew! We did it! Fifteen of the top living books options to enhance your history studies!
Obviously, a list of top books is ALWAYS up for debate, so if you have a favorite book not included in this list that you think everyone should know about, please let us know in the comments!
---
Share this post
---
---
---
0 comment