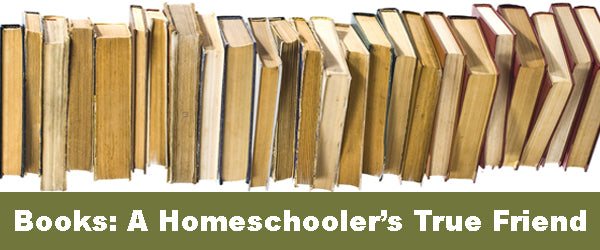 Posted by Amy Pak on
Books are the life-blood of a homeschool family… They provide field trips to eras past or imagined worlds of the future! They bring you to countries across the globe and adventures a child may never get to experience in his or her lifetime.
Like a traveler relies on a passport, a homeschooler relies on his library card! 
There will always be plenty of fodder for conversation in a book, whether through the characters themselves, or even just one meaningful line.
John Piper once said, "Books don't change people; paragraphs do. Sometimes even sentences."
Homeschool Starter Books
First, for the parent who wants to educate at home, there are a plethora of books to choose from to guide, inspire, and ignite ideas. There are books for getting started homeschooling, such as:


1) Mary Pride's Complete Guide to Getting Started in Homeschooling
2) Erica Arndt's Homeschooling 101: A Guide to Getting Started
3) Linda Dobson's The First Year of Homeschooling Your Child: Your Complete Guide to Getting Off to the Right Start


and the classic we started with…
4) Homeschooling: The Right Choice by Christopher J. Klicka.
There are also guides to help with the myriad of homeschool curriculum choices out there, but you will want to keep up to date with that, as new materials are introduced every year. In that case, you might want to check out Cathy Duffy's top picks and reviews (of which our history materials are among them!)
However, you may want to determine your child's learning style before attempting to match them to specific curriculum. In that case, The Way They Learn, by Cynthia Ulrich Tobias, is a good choice.
Living Books 
Now, on to the fun part! Engaging the children in quality living books!
What is a "living book," you ask?
Charlotte Mason, an English educator at the turn of the 20th century whose style of education would become known as the "Charlotte Mason Method," said it well: 
"Children must have books, living books; the best are not too good for them; anything less than the best is not good enough; and if it is needful to exercise economy, let go everything that belongs to soft and luxurious living before letting go the duty of supplying the books, and the frequent changes of books, which are necessary for the constant stimulation of the child's intellectual life." (Parents and Children, p. 279)
A living book is a book with a story or book on a topic with meaty information. It is not a textbook, but instead a book that gives information with passion, in a way that will pull the child in. If it is an informative book, it is generally written by someone with knowledge on the subject.
Other living books include classics or stories that introduce the child to eras of time or fictional characters and how they lived life, experienced events, and resolved conflicts. You are often sorry when the last page is turned, and sit back with warm feelings of new friends you've made throughout the story.
Having trouble finding suitable living reading for your children? There are books that help you determine books of eras and their grade levels, such as Honey for a Child's Heart, by Gladys Hunt and Books Children Love: A Guide to the Best Children's Literature, by Elizabeth Laraway Wilson.
There are also several curricula that are primarily based on living books, such as those by Sonlight, Heart of Dakota, and My Father's World.
Finally, my last encouragement is to use books in MANY areas of your schooling. We often think of "readers" to teach language, but history just begs to be taught with living books! 
Our Time Travelers and Project Passports, Lap-Paks, and several Activity-Paks come with resource lists of suggestions for additional reading.
On top of that, science can be supported with books about famous scientists, inventors, and explorers. How about the lives of composers or artists? Even many mathematicians have biographies or stories of their accomplishments!
Assign reading according to reading level, but always make time for family read-aloud… there is nothing more fulfilling than spending time on the couch together with a blanket, a cup of tea, and a good book!
"This week I've been reading a lot and doing little work. That's the way things ought to be. That's surely the road to success." - Anne Frank


---
Share this post
---
---
---
0 comment