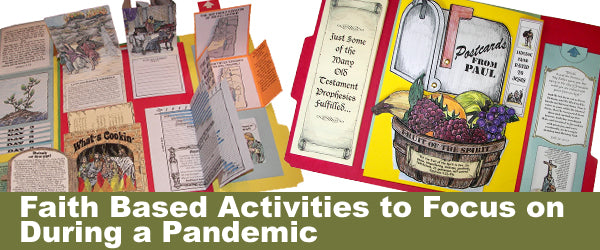 Posted by The Home School in the Woods Team on
If there's anything living in a pandemic has taught us, it's that we NEED God! When it comes to homeschooling our children, teaching them about Jesus and his promises is crucial – especially when our kids look around and see so much brokenness in our world.
One way parents can bring more of God into the classroom is by including some faith-based activities.  We hope that your kids' faith grows stronger and they mature and change the world because of it! 
Why Include Bible Activities for Kids?
Living in a pandemic where faith is needed to get through each and every day is one reason to include faith-based activities in homeschool, but what are some others?
Proverbs 22:6 says, "Train up a child in the way he should go: and when he is old, he will not depart from it." It's for this very reason that teaching our children about God is so important. 
Children are like sponges; they soak up everything and anything around them! The things they learn at a young age will stick with them well into their adulthood – even if you don't quite see the fruit of it in the here and now! 
It's incredible to think of how strong this next generation's faith can be in light of all of the hardships they're facing in today's world. If they're brought up in God's truth, they're bound to do amazing things for the kingdom. 
So, what are some Christian activities for kids? We've got a few ideas below! 
Bible-Based Crafts
Who doesn't love crafts? And bringing in the Bible into your arts and crafts time is easy! There are endless amounts of Bible crafts for kids out there on the internet – especially on Pinterest. We even have a few unique projects in our history curriculum. 
One of our most popular Bible-based activities is our Armor of God Poster, where kids can visualize the Apostle Pauls's teaching in Ephesians 6 to "put on the whole armor of God." 
This project involves drawing or printing a picture of the child's face and putting it on a soldier's body. Each piece of armor is removable and acts as a hands-on reminder to put on the protection of God as His beloved children. This poster can be taped to the wall next to your child's bed so they can wake up every morning and "get dressed" with Jesus!
Bible-Themed Lapbooks
Lapbooks are an excellent way to help children remember all sorts of topics in a visual way. For those of you who don't know what a lapbook is, it involves using a file folder and folding it in such a way that it creates a "portfolio" filled with a myriad of small projects.
Here at Home School in the Woods, we're big fans of lapbooks and have dozens of them available to help teach kids about history – including the Old and New Testament! Each era has 15 lapbooking projects that incorporate creative writing, coloring, research, Bible games for kids, and more! 
Our Old Testament Activity-Pak takes a trip through the Old Testament, starting at Genesis and ending with letters from the prophets. Each study is designed to help encourage personal research, and in the end, witness God's hand at work through His amazing people.
The New Testament Activity-Pak brings in the star of the story – Jesus! In the same way, this lapbook is designed to help them see God's amazing plan unfold through His Son. When all is said and done, your child will know the weight of the gospel and many of the teachings of Jesus!
Learn the History Behind Christian Holidays
There are many holidays scattered throughout the school year. Why not take a break and learn the history behind them? You might be surprised to find that many American holidays we celebrate today have Christian roots with stories worth learning about!  
Our History of Holidays Activity Study allows you to take a break from your regular studies to learn about an upcoming celebration. It covers over a dozen American holidays like Christmas, Valentine's Day, St. Patrick's Day, and Easter (all of which have Christian origins!). 
Each study takes about 1-3 days but can be stretched out with additional resources. It has fun, hands-on projects, Christian games for kids, recipes, and more so that when those holidays roll around year after year your kids will know their true meaning! 
Put on a Play Based on a Favorite Bible Story
Most kids love dressing up, which lends itself perfectly for a Bible-based play or puppet show! All you have to do is read a story in the Bible to your kids and then have them put their heads together and make it come to life. 
If they learn about Daniel in the lion's den, they can grab a few robes, put on some sandals, and turn their brother or sister into a ferocious lion! They're bound to have loads of fun performing for the family after dinner time.
If you're looking for some tips on where to find affordable dress-up clothes, check out our video, how to make dress-up clothes on a shoestring budget. We also have another video on how to make an easy, no-sew mob cap, in case you're interested! 
Our kids acting out how a Hebrew would host a guest
Recipes That Help Teach Bible Stories
What's a pandemic without some tasty treats!? We're not just talking about Rice Krispies (although they are pretty delicious…), but historical recipes that tell a story from the Bible.
The Bible is filled with tons of stories involving food. Jesus fed 5,000 people with just five loaves of bread and two fish – not to mention that he turned water into wine!
So how can you bring the Bible into the kitchen? It's easy. Simply pick a story from the Bible that involves food and find a recipe that goes along with it. You can bake a loaf of bread (excellent with honey, a food item mentioned over 60 times in the Bible!), make some homemade grape juice, or throw together a savory soup. 
Our Old and New Testament Activity-Paks and our History of Holidays Activity Study have some unique recipes in them that use food to help teach about topics in the Bible. 
For example, the Resurrection Cookie Recipe in our New Testament Activity-Pak involves making cookies, placing them in the oven the night before, and covering up the oven door as if it were Jesus' tomb. When the cookies are ready come morning time, the kids "roll away the stone" and find the cookies have risen! The coolest part? The cookies are hollow to represent the tomb being empty! Remember when Esau sold his birthright to Jacob for a bowl of lentil stew? We've got a recipe for that in our Old Testament Activity-Pak! 
So, as you can see, there are plenty of ways to combine the Bible and food. Not only do your kids get to learn about God in a hands-on way, but they get to practice the art of cooking, which involves math, science, and home economics. Talk about a win-win!
Which Faith-Based Activities Will You Try?
There you have it – our favorite faith-based activities for you to try at home with your kids. Is there an activity on this list you'd like to try out with your family? Tell us in the comments. And if you know any parents who could use a little more faith during this pandemic, please be sure to share this article with them!
---
Share this post
---
---
---
0 comment