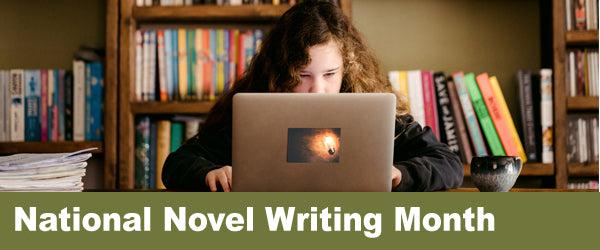 Posted by The Home School in the Woods Team on
Writing a novel is no simple task, even for seasoned writers. In fact, many people fail to realize their favorite author took many years of fear and failure before completing their famous work of art. For example, J.R.R. Tolkien took 17 years to complete his beloved Lord of the Rings trilogy!
For those participating in National Novel Writing Month (NaNoWriMo), writing a masterpiece could take as little as 30 days. With an encouraging community that provides the necessary tools to put your story on paper, people of all ages (especially young adults!) can finish their first draft.
If your child dreams of becoming a writer, then NaNoWriMo is for them. From November 1st to November 30th, your child can participate in the writing challenge and complete the story that's been brewing in their head.
In this post, we'll explain exactly what NaNoWriMo is and why it's the perfect holiday to celebrate with your creative, story-telling child. After all, who knows, you could have the next Shakespear sleeping under your roof! 
What Is NaNoWriMo?
NaNoWriMo is more than just a novel-writing marathon; it's about pushing oneself to become the writer they long to be. This free internet-based program that takes place during the month of November encourages participants of all ages to write the first draft of their novel.
The program was started by San Francisco writer Chris Baty in 1999. In its first year, NaNoWriMo started with a whopping 21 participants. By 2000, the program was moved to November as a way to "take advantage of the miserable weather." Baty and his friends launched a website that same year, and to their surprise, saw 140 new participants.
Over the next several years, Baty's program grew larger and was promoted by various news sources across the country. In 2005, NaNoWriMo was registered as a nonprofit organization, and by 2010, 200,000 people were taking part in the event worldwide. 
Today, 367,913 novels have been completed through the NaNoWriMo program, including award-winning books like Water for Elephants by Sara Gruen! The website also offers a program for young writers called NaNoWriMo Young Writing Program (YWP). 
What Are NaNoWriMo Rules?
Writing a novel takes discipline, which is why NaNoWriMo has a few rules. 
The program starts on November 1st at 12:00 a.m. and ends at 11:59:59 p.m. on November 30th. Writers cannot start their project early (this includes prior planning or notes) or end past the due date. 

For adults, all novels must meet the minimum requirement of 50,000 words (roughly 1,667 words a day) in order to win. 

Participants under 18 years old set their own unique word-count goals, taking into account their writing experience, schedule, and enthusiasm for writing. NaNoWriMo encourages goals to be challenging but still achievable.

You can write about anything you want, including any theme, genre, or language! 
During the program, writers will be given access to various tools and resources, including "pep-talks" by famous writers like John Green. The best part is that it's all free, making it the perfect project for the young adult in your life who has a knack for writing.
Why Is Writing Important for Kids? 
Writing and reading are important skills that everyone should be taught. This is because writing and reading are the foundation of all knowledge. The ability to read and write opens the door to learning about other subjects such as history, math, science, etc. 
Writing can also be a creative outlet that allows children to express themselves. Whether it's writing a short story, poem, play, or even just a simple diary entry, kids can find writing to be a fun, therapeutic hobby.
Even though our products are history-based, we offer many creative-writing projects throughout our studies. We believe that when kids tap into their creative side (writing being just one of them!), they better remember the subject or topic they're learning about. 
All through our studies, we include several opportunities for kids to practice their creative writing skills – the most popular being our creative writing newspapers, which give kids the chance to step back in time and report on a topic as if they were there in real life. 
You can learn more about the importance of creative writing newspapers when teaching history by reading our post, Why Creative Writing Newspapers are Incredible Teaching Tools. 
How to Participate in NaNoWriMo
To participate in NaNoWriMo, you simply just have to sign up. What if your child isn't ready to commit to writing a novel at this stage in their writing career? That's perfectly fine! 
Aside from NaNoWriMo being a community that helps writers set ambitious goals during November, it's a teaching tool taught in over 5,000 classrooms year-round, helping kids overcome the fears and struggles associated with writing. 
Completing essays and other writing assignments in the midst of writer's block can be difficult. However, with the right mindset, kids can overcome distractions and stick to a structure that keeps them focused, creative, and on track. 
NaNoWriMo offers motivational materials, progress tracking tools, workbooks, and more to help kids further develop their writing skills. You can learn more about their Young Writing Program at ywp.nanowrimo.org. 
If you aren't up for participating in the program, here are a few other ways you can participate in NaNoWriMo...
Read published

NaNoWriMo books

– there are a lot of good ones out there! 

Set your own personal writing goals during the month of November. 

Start journaling.

Go to your local library and rent a novel.  

Learn more about your favorite author. 

Join a book club or writing forum. 
Every Story Matters! 
Everyone has a story to tell – even children! These gifted little story-tellers are chock full of ideas just waiting to be put on paper. With the right goals, tools, and encouragement, you can help your child channel their inner author and help feed their imagination into adulthood. 
We hope you're encouraged to learn more about NaNoWriMo and potentially participate as a family! For more obscure holidays, check out our blog posts, National Pizza Month, World Smile Day, and National Sewing Month!
---
Share this post
---
---
---
0 comment