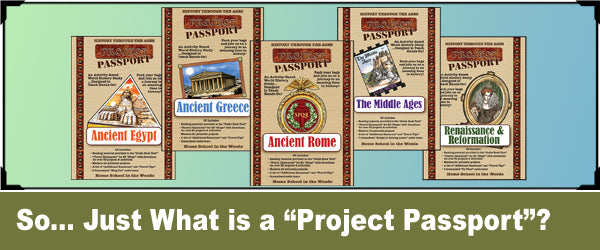 Posted by The Home School in the Woods Team on
Home School in the Woods' five-part collection of Project Passport World History studies are thorough, comprehensive, and jam-packed full of educational goodies. We count them amongst our most favorite products — and no wonder! 
We invested over six years into the series, painstakingly researching and creating each study with an eye towards accuracy, education, and that spark of fun that only history can possess.
And that's why we've created this post. 
For all of the work involved, one of the hardest things to communicate about a Project Passport is the sheer wonder of everything packed inside it. Each study is a bit like a clown car, whimsically packed with an endless procession of impressive projects, text lessons, and other materials for teachers and students alike. 
Don't believe us? Let's take a closer look, shall we?


What the Series Covers
The Project Passport World History collection begins, well, back at the beginning. It picks up with the rise and fall of one of the earliest civilizations known to man: ancient Egypt. From there, it winds down the Nile River and on into the Mediterranean where it traces yet more ancient history through the rise and fall of the Greeks and the long path of the Romans before progressing on into the Dark Ages and Middle Ages that followed. As a finale, it culminates in the dramatic events of men like Leonardo da Vinci and Michelangelo during the Renaissance, as well as big personalities like Martin Luther and Henry VIII and the Reformation that they took part in.  
Below is each installment of the series in a nutshell.
Text Lessons, Lesson Plan Schedules, and Other Tools
While the topics of each Project Passport are helpful in understanding what eras you'll be covering, there's still the question of what, exactly, you're getting with each one. Let's start with the teacher's side of things. 
First, each study comes with a lesson plan schedule and key that is laid out as your "Itinerary" ("itinerary" coming from the fact that each element of the studies is typically named after some aspect of travel, keeping in line with the "passport" theme). 
This "itinerary" breaks down twenty-five lessons, what they cover, and what projects go best with each lesson. On top of that, there are teacher guides, teaching tips, and pictures and written instructions for all of the projects. 
And then there are the text lessons. Technically for the students, the text provides you, the teacher, with an easy way to round out your study without the need to hunt for a "spine" world history textbook to go along with the projects. 
We know how frustrating it can be to cobble together multiple curriculums, so we've gone ahead and created twenty-four information-filled text lessons backed by months of research to go with each study. These are written in a conversational tone, in order to make them accessible for younger ages. However, the content itself remains complex and informative, as it is designed to challenge older students, too.
Our text lessons have often been lauded for their simultaneous accessibility and depth, equipping students with genuine, quality information that, while small enough to avoid being overwhelming, still provides a solid foundation for each topic.


The Hands-On Projects
Whether you plan on using the Home School in the Woods text lessons or you have a spine text already picked out, each Project Passport is still well worth its weight in gold, if only for one reason: the projects. The dozens of project options in each study come with printable masters (all reproducible within a family), picture and written instructions, and photos of the completed projects to help guide you. Several of the major projects that come with each study are outlined below.
A lapbook.
Over the course of each study, students create the pieces to a lapbook, all of which are assembled at the end as a "final project." This leaves you with both art class and history covered!
Notebooking pages.
While the lapbook is a great way to condense a study onto a few fun-filled pages, we also include a plethora of interactive notebooking pages that provide plenty of extra options to help bring each era to life. Of course, these are kept in a "Scrapbook of Sights" — a handy way to organize all the materials a traveler would collect on their journey!
A mini-timeline.
A timeline is always an excellent way to help keep track of things! Each study comes with a small timeline to help track the specific people and events that are being discussed. Keep in mind, these smaller timelines do not cover the larger, global events that are included in our larger American and World history timeline collections.
A creative writing newspaper.
One of the best ways to gauge how well your student is retaining information is by having them fill out a creative writing newspaper. This doubles as creative writing time and also encourages them to draw on the information they've learned up to that point. Each study provides a printable template, headlines, and blank spots with suggestions for local, historic ads that the students themselves can create!

A file folder game.
Who says you can't have fun while learning? In fact, that's precisely why we include a file folder game in each study. While students play, they're faced with questions based on the era they just studied. From escaping a collapsing pyramid to serving as mercenaries in Renaissance Italy and more, these are great ways to review your study when you're finished.

Various recipes from the era.
Hands-on includes eating! We always make sure to provide a "Dining Out Guide" menu of various era-based recipes, all of which we've tried beforehand to make sure we've found the best options.
3D projects.
Each study regularly wanders from the papery realm of lapbooks and notebooking pages in order to do some 3D projects. You can make clothing from each era, build dioramas of classic architecture of the time, create your own sarcophagi, and SO MUCH more!

Radio Theater.
Each study comes with well over an hour of radio theater as you and your children are taken on a "tour" of the era. The tour group meets up in the first episode and then proceeds through several different stops, where the group visits historical places and interviews various people throughout time.
What's the Age Range?
One question that regularly comes up is what age a Project Passport is meant for, and it's a great question! 
The short and simple answer is 3rd to 8th grade. 
However, that isn't a hard-and-fast rule. Often even younger students will participate in the studies, although you may want to tailor the projects (or skip certain ones entirely) depending on how complex they are. 
In fact, that's part of why we provide so many projects in the first place. They're not necessarily meant to all be done by every student — although more power to you if you want to go that route! Instead, the idea is to give you enough projects "in the queue," so to speak, to have options for all ages that you're working with. 
That said, students that are older than the 3rd- to 8th-grade range can also benefit from Project Passports, although we do recommend that you consider beefing up the reading materials or providing something else for them, if you feel the workload isn't sufficient. Projects are often used in addition to high school curricula, especially for the student who learns better hands-on. 


Why Not Pre-printed?
We already answered the question indirectly a few times at this point, but there are a couple of primary reasons we've never been able to sell pre-printed versions of Project Passports. 
The first and obvious one is that in a digital form they're easily reproducible within a family. All you need is one copy of the curriculum, and the rest of your hard-earned cash can go towards paper and ink. 
In addition to that, though, there's the issue of the sheer number of project options. Very few people do all of the projects, and the manufacturing costs to print one of everything would add significantly to the overall price, even if you didn't end up using half of the printed items. Also, you may have multiple children, each developing their own Scrapbook of Sights, but coming together to create some of the projects as a group. That's why we opted to charge less and let you choose which projects and how many copies of each.


How Long Do Project Passports Take?
While the answer to this is widely varied depending on things like ages, the number of students you're teaching, how many projects you do, etc., the average time to finish a project does tend to be about ten weeks. 
That's based on doing an average of 2-3 lessons a week. 
However, many people will choose to do a lesson a week, taking their time and doing more projects. That stretches one study into a semester-long affair. On the other hand, if you're particularly selective about your projects, you can move through a Project Passport in less time.


No Test?
That's right; we do not provide formal testing in our studies. Our goal is to spark that love of learning, immerse students in the topics, and get them engaged with hands-on, visual, and audible methods, in addition to traditional reading.
However, if you're looking for a way to test your student's knowledge at the end of the study, there are dozens of questions in each file folder game that can easily double as test questions, if desired. Simply go through the question sheet, pick out the ones you want, and give them to your student.


Why You Should Give Project Passports a Try
The real question here should be, why shouldn't you give Project Passports a try? 
After all, they're packed with hands-on projects that can help engage both sides of your child's brain as they develop and grow. In addition, they're backed by top-notch text lessons, they provide everything that both you and your students need, all in one affordable purchase, and they're reproducible within a family.
Whether you're looking for something that the whole family can do together, a study for a particular child that loves that hands-on element, or you simply want a single curriculum that doesn't send you off on wild goose chases looking for projects, there are plenty of ways that Project Passports can meet your needs.
---
Share this post
---
---
---
18 comments