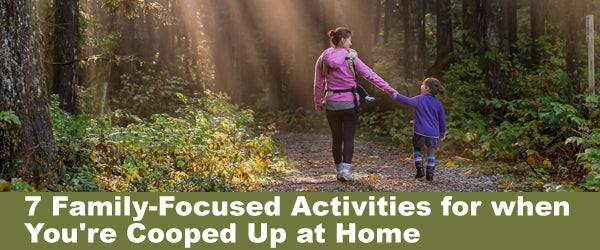 Posted by The Home School in the Woods Team on
As homeschoolers, we can start to feel a little cooped up from time to time. During moments like these, we need to find things to do that ease our boredom and help us grow as a family! Today we want to share with you seven fun family activities to help everyone in the house reset and refocus on what matters most.
Get Outside
So, what are some things families can do together at home when they're feeling a little stir-crazy? This one may seem obvious, but to break the cycle of being inside day in and day out, we must get out and get some sunshine and fresh air! 
There's plenty of things you can do outside as a family, starting with hiking some local trails. During these walks, you can learn about nature, go geo-caching, tell stories, or even just walk in silence (that's okay, too! Of course we realize that for some families, it may be impossible...).
There are always seasonal activities to do outside. Here are some fun outdoor family activities you can do all year round:
Summer
Set up a backyard waterpark

Go for a bike ride

Have a picnic 

Pitch a tent and go camping  

Create artwork with sidewalk chalk
Fall
Go apple picking

Play in a pile of leaves

Decorate pumpkins 

Make a campfire 

Visit a corn maze 
Winter
Set up a bird feeder 

Make a snowman or igloo 

Have a snowball fight

Go sledding 

Make artwork in the snow with food coloring 
Spring
Make a fairy house

Start a mini garden

Set up a tire swing

Jump in some puddles 

Make a neighborhood book exchange book 
Read Aloud or Listen to an Audio Book
Who doesn't love a good story? They allow us to escape reality and enter into a whole new world! There are plenty of educational books out there you can read as a family that not only leave you on the edge of your seat but also help you to learn something new. 
We have a whole article about the importance of "living books" and some suggestions your kids might love. The Adventures of Robinhood is always a fun one, as well as the Heroes of History! 
Play Games
We've always been big gamers in our family (and we're not just talking video games!). We love board games specifically for a few reasons – the most important being that they're hands-on and can help engage our brain.
If you've ever used our Time Travelers or Project Passport studies, you know that we always try to include an educational game to accompany learning about a specific era or subject. 
Some of our most popular games include Battle Blitz (American Revolution), Tomb Dash (Ancient Egypt), and The War to End All Wars (World War 1). Check out our games and surprise your kids with a family game night! 
Serve Others
Many people wonder, "what are family activities to do near me?" One option that is often overlooked is serving others. This not only benefits those in need but helps each of you grow as a family and as individuals. 
This could play out in a lot of different ways. Your kids could serve their brother or sister by playing their favorite game, or they can help someone outside of the family by shoveling a neighbor's driveway or baking a friend some chocolate chip cookies. 
Here are some more ideas for serving others:
Donate to your local food drive

Clean up trash in your neighborhood 

Invite someone over for dinner and cook them their favorite meal 

Knit or crochet some handmade items for your local shelter

Pay for someone's meal at a restaurant 

Walk dogs at your local shelter 
Don't forget that there are plenty of unique holidays you can participate in throughout the year that focus on making the world a better place, like World Smile Day and World Hello Day!  
Cook a Meal Together
How about heading to the kitchen and cooking up something as a family? Cooking is an important skill to know – and a rewarding one at that! We've always been a big fan of including historical recipes in our curriculum, not just because they're delicious but also because they can help kids remember important people, places, and events.
We have plenty of free recipes you can check out on our blog – from Abe Lincoln's Favorite Cake to recipes that focus on the History of Holidays like Linzer Cookies for Valentine's Day or a Hearty Irish Stew for St. Patrick's Day. 
Go To a Museum or Take a Virtual Tour
There's something special about going to a museum as a family and letting history unfold right before your eyes. One of our favorite places to take our kids growing up was Williamsburg in Virginia. We would dress up as a family and spend the day learning about colonial life! 
We're obviously history nuts in our family, but there are plenty of other types of museums out there like historical gardens, butterfly museums, and kid-friendly art museums. 
As we're writing this, we're currently living through a pandemic, so we understand that a physical tour might not be an option for your family. Don't let that spoil your fun! Look into taking a virtual tour online. You'd be surprised how many museums are offering them for those looking for family activities during quarantine.
For more tips on family fun activities like dress-up, watch our video Dress-Up Clothes on a Shoestring Budget or How to Make a Mob Cap. 
Get Crafty
If there's one activity that's a guaranteed good time, it's arts and crafts. After all, who doesn't like getting their hands dirty and making an awesome keepsake? 
We have a few different crafts that can be personalized for everyone in the family. You can make some decoupage ornaments using magazine clippings. Another fun one is floor cloths, which involve painting a pretty scenery on some canvas. There's also punch tinning some old cans and making them into lanterns. 
We've got a whole series called "Crafting Through the Ages" on our blog with many unique historical crafts the entire family can do! 
What's Your Favorite Family-Focused Activity?
Are you inspired to get the family together and have some fun? We certainly hope so! Being cooped up inside day in and day out isn't good for any of us. With a little imagination and creativity, everyone in the family can get back to feeling like their fun selves again! 
Question: What's your favorite family activity to do at home together?
---
Share this post
---
---
---
0 comment